Unfortunately, I have picked all the backmarkers. While it's cool to paint cars like Larrousse, Simtek and Pacific that somewhat have their own history, it can can also be very stressful because they actually needed huge amount of money. On the one hand they needed drivers like the legendarily rejectful Jean-Dénis Délétraz for Larrousse, on the other one they have had sponsors that nobody has ever heard of, therefore gone bankrupt and disappeared without a trace. But thanks to Christian and his magazine scans, I could manage to identify some no-names that were on the Minardi M193B/M194.

I've never heard of "Eusider" and "Framon" for example even though they still seem to exist today surprisingly. The tough thing about them wasn't the company names though, but the texts that were actually written beneath them. Under Framon it says "Fonderie componenti per illuminazione", which is Italian for, "Foundry of Components for Illumination". Anyway, it was a real pain to figure out that name and slogan. The only source I had was quite a small picture where I could only guess the letters, made something up, googled it, found their website and felt absolutely delighted to have the slogan right. Interestingly in the slogan it's called "fonderia", in the logo it's "fonderie". Can somebody elaborate?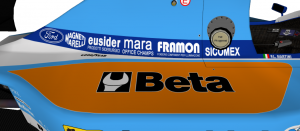 As already mentioned above, "Eusider" was quite similar. I had a source where I read something like "siderurgica" and another one where I had "prodotti". Then I contacted a friend of mine who has a friend that can speak Italian and he said to him and he said to me that it is "prodotti siderurgici". We also conjugated and declinated the entire phrase into every possible case and eventually decided on "prodotti siderurgici" which means "products made of steel". So this is basically the same as "Lucchini" on the sidepod and I ask myself the question, why Minardi had two competitors on their cars.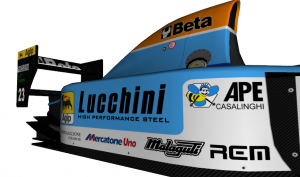 The APE-Logo was the first Logo I recreated as a vector-graphic in Inkscape. Another problem about the Minardi was the limited amount of photos. From the first four rounds (Brazil – Monaco), we only have a few photos from Monaco and some snapshots I made from the Imola race. And the quality of the snapshots was obviously equivalent to those of the 1994 videos. Crappy, big time.
However, it's great to paint those cars and I'm really proud of it so far. I'm really looking forward to seeing those cars ingame and we will of course provide you screenshots then. 🙂