As you know, we are currently busy with the IFM project. However, that doesn't mean F1 94 is out of our heads.
The F1 1994 project involves a lot of investigation and research, mainly on sponsors because high quality photos are rare to non-existent. A lot of guesswork is needed and often a little luck. During our research, we often stumble upon little anecdotes we like to share with you guys. For example, we talked about the various small logos on the Minardi that were quite hard to find.
One particular sponsor on the Simtek has been following us for over two years now. It's been on the rear wing endplates only at the Pacific Grand Prix; we had numerous photos but none of them were good enough to decipher the company behind the logo. We contacted the former driver David Brabham about it and he couldn't help us in this case. We even mentioned it in a devblog article and posted it on numerous forums but no one was able to help us.
Until last week.
The guys at F1 Rejects love everything that is bad, funny, mysterious or embarassing in the world of Formula One and one of the members contacted a Japanese friend of his about the matter – two years after we posted the request! And he came up with an incredible result: what we thought could be Eastside Roccs, Sastiana Pocos, Mastana Pocos etc. turned out to be Marutama Foods. And even better, we were provided with a good photo of the logo.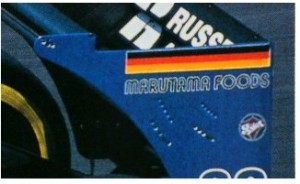 Well, it's only a very small part of the mod that none of you guys would even pay attention to – I guess., but for us (especially for me as I'm painting the Simtek), it's the story we will remember for a long long time I think. 🙂