… after months of modeling, texturing and shading. Short summary:
The Cylon was created by Andy
He raced.
He evolved.
There is only one.
He has a plan.
For the long story read more.
Everyone who knows Battlestar Galactica knows about Toasters Cylons. Andreas 'Neidryder' Neidhardt is a fan as well. What is behind this? A Battlestar-Mod for a game? Couldn't be more wrong. It's a fictional touring car.
The Plan started with WirPre-Racing e.V. (German Racing League) who contacted Andreas with the request of a fantasy car that could be used for a new championship. As it was planned as a commercial championship and they had to take care about a lot of rules, laws and license-stuff. So it was decided that they needed a fantasy car and Andreas agreed to help them. Stefan Triefellner (better known as Erale) was doing the physics and Alfons Schurek (a.k.a. Fonsecker) created realistic sounds. So their project Cylon RS began several months ago, now getting on the start/finish-line so that we can show some stuff you might find interesting.
It's a front wheel-drive car with about 350HP, so no open-wheeler, it's a touring car. Something Andreas had not much experience with, but the guys did their research and the car is, as said, nearly finished. During the modelling, the car got the nickname "Cylon" because of its peculiar front. The designers waited a long time for the template and started painting immediately.
At the first rollout the car had this Design: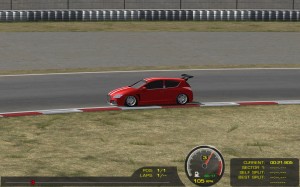 Here are some WIP-shots of two designs, one is a Cylon-Design by CoDan and the second is a design by Mario Ruden.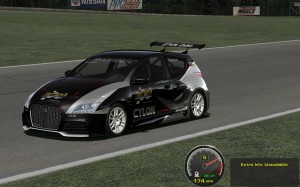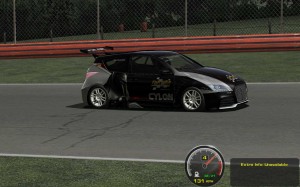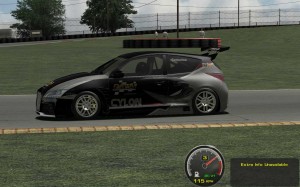 So these are some designs, but I guess there are much more to come when the first Cylon-Racing-Season starts. For more information you can visit the official DSTM-Website (German language only).
Since the car would be the only model in the championship, Andy put a lot of efffort into the details. The car is as smooth as a baby butt and most features on the car are actually modelled. Including doorhandles and every single headlight. They are not just a texture, they are modelled. Fonsecker also has made progress with the sounds as well as Erale with the physics. At the moment it is planned that the seasons starts in September with the car. At least all people involved can't wait for it :).
Andreas was one of the masterminds behind the F1-2006 mod. After the long work on that mod he regarded the Cylon as a break from the regular duties at CTDP. So now you know one project Andreas spent his time the last several months. Often he worked till late in the morning and he still managed his real life.
We congratulate him to this magnificent car! I wish we knew what The Plan was, but we don't either.