Imagine you tune into your favorite TV-show and at the beginning they have the recap of previous episodes to give you a head start into the episode. I think it's about time we do this for the 1994-mod.
It feels like forever that we work on this mod. Actually, our timing is much worse for CTDP94 than it was for CTDP06. We worked on CTDP06 a total of 2,5 years. CTDP94 is in the making since 2003, so for about 6 years. This sounds terrible, it was certainly not the plan, but looking a bit at the history might shed some light on this shocking figure.
TDG – The Beginning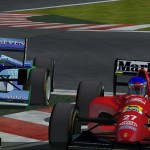 F1-1994 didn't start out as a CTDP project. It's hard to trace it back in time and to find material about this in the archives. We go back to the year 2003. CTDP released with F1 1995 their first mod for F1 2002. In July 2003, TDG, a befriended modding-team began their work on a 1994 mod. TDG were SLN, Tantra, Jay, Matthew and Trasher. Interesting factoid, years later everyone except Matthew ended up working for either ISI, Simbin or Blimey. They worked on it for half a year and released frequent screenshots of their good progress. By the end of the year 2003 they had a working beta with most of the cars. A planed release was not met and the mod was post-poned and then announced on ice. A major packaging problem caused a loss of data, which basically killed the mod.
The idea came up early, that CTDP could pickup the mod, although this was mostly met with caution and was not regarded serious at first. 3 weeks after the planed release date, the mod was officially cancelled.
The aftermath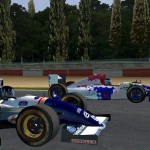 TDG had the sources, it had a beta ingame, which was buggy, but it worked. TDG split. The project coordination was an admitted problem. Changing members, not the necessary teamwork and at the end it were only 3 people working full time on the mod. Some members continued on their own, Trasher released a couple of cars for F1Challenge. Track-modifications were released. Other members like the Jay and Matthew joined CTDP. As the project was canceled, everything that was ready was released in July 2004. And by some channel even the beta found their way into the public. The beta was buggy, so were the tracks. It was a pain to install and caused many problems. It was beta, what do you expect? This release will proof to be a bad decision later.
A new hope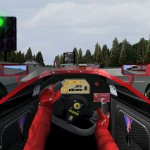 In 2004, CTDP was working on a 1998 mod and F1-2004, but got permission by the former TDG-members, to get their sources, textures and models and to see, if we could pick the mod up and release it. While CTDP was busy with our own projects, the mod didn't receive much attention. When CTDP04 and CTDP98 were released and CTDP96 cancelled in January 2005, CTDP finally reviewed the old material. This was a bit disappointing. While TDG did a good job 1,5 years ago, the mod was not up to our technical standard anymore. Model and Texture-quality increased rapidly at that time and one year of development made a major difference. Although most cars of TDG where ingame, we decided to beginn to update the models and start the textures from scratch, using our common mapping-scheme and higher resolutions. Andy worked on Benetton, Wai Keen Lam did Simtek and Pacific, Dahie painted Benetton.
Then the F1 season 2005 began. CTDP decided to focus on the current season and develop 1994 in the background. "CTDP94 doesn't run away, but let's do 2005 as quickly as possible." said Andy. The mod remained in development, but there was no steam.
Leakage
As mentioned, by some channel the working-beta leaked to the public in mid 2004. These things can be annoying in that particular moment, but for 1994 it was even worse, because bad 1994-mods based on this leaked beta popped up on the internet for the next 2 years. We saw to remove them, because they were neither authorized, nor bug-free, nor even good. Sometimes it took some convincing the Webmaster to take down download links, sometimes we even got the community against us, who rather wanted to play a bad and buggy 1994, then none-at-all. In our opinion, a mod has to meet certain standards before it can be released. This was never the case.
The second coming
After the main models for the F1-2006 mod were finished in 2007. Marco was really fed up with the modern F1-cars. All those winglets, shapes and complex-models, just didn't suit him anymore. He wanted to finally revisit 1994. Today he said, that the shapes in 1994 were as complex as nowadays. The devil is hidden in details and most of us didn't remember the cars as well, as we do the cars from the current season.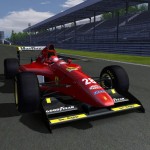 As the sources of TDG-1994 were nearly 4 years old by that time. Marco decided the only logical and to start the models from scratch. Although it was a shame for the work, that was already put into it, it was necessary to create a mod, that will be up to standards. We thought, we can do better, be more accurate. Marco was totally hooked with 1994 and worked on his own for over a year. He recreated all cars and even began to paint them with a protoype-texture. The project ran next to F1-2006 for all the time and was his playground. Oms converted the new Ferrari to rFactor for a test. The only ingame screenshot available so far is the shot of this Ferrari used in some artworks on our website.
Full steam ahead
At the beginning of 2009, a month after the release of the long-awaited 2006-mod, CTDP began to focus their work on the mod again. This time new painters joined the team and helped to rework all textures to the final resolution of 2048×2048. Marco updated some cars where it was deemed necessary and soon, Andy will beginn putting the first cars ingame. It's still alot to do, but this time, we are finally committed to see this mod come to its deserved release. It has been such an ever-lasting story with enough chapters. So we work hard, to get it done and get it out.
Until this day comes, we will continue to write and show our progress here in the blog. 🙂