This is about an issue that has been reported several times in very many occasions. We'd like to take the time now and talk about the problem. It has been reported, that sometimes during online races the cars begin to drive oblique. This looks very strange and obviously neither good, nore realistic.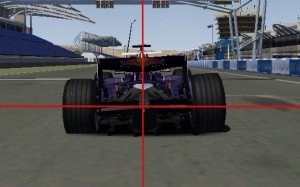 © Maranellofan
The issue, that cars begin to lean to one side during online gaming is known, but unfortunately, that's not an issue we are responsible for, but a bug or rather a shortcoming of rFactor.
You see our mod has one of the most advanced physics ever developed for rFactor. Our physics-guys went into great length, to use every option available to simulate the driving as realistic as possible. We are at a point, where we touch the limits and unfortunately this tilting is one sign of rFactor giving up on us.
Basically it is caused by 3 factors:
the damper settings. We have the option to either use unrealistic values to workaround a graphic-bug, or keep the realistic physics and accept the bug, which is only caused sporadically. We chose the latter.
the setup: It's not really clear how, but the setup has some influence on the problem, but it doesn't cause it.
the track: The modelling-detail of the track-mesh influences how precisely rFactor can calculate the correct position of the car-model on the track. On tracks with low surface detail, low face count and large faces, the scanning looses precision and can also cause this bug.
Obviously, we are not happy about this either, we were in contact with ISI, but obviously they won't fix it untill a possible successor of rFactor. We also can't do the track-modelers/-converters job, to deliver good tracks, who don't cause problems. Also, as far as we know, we are not the only modding team having this issue.
So you have the option: either accept the bug or check for damper-settings in the physics files, play with the values and find a change, which avoids the bug, but still gives you tolerable driving.