The last few days I had a long discussion with Marco, who modelled most of the 1994 cars and also the Benetton which I'm painting.
The most difficult thing is to get good resources, good pictures. It's no comparison to the flood of images you can get in all kinds of quality for modern F1-cars, but working with the limited sources we have is challenge. Many images are low-resolution and captures of the races are of low quality. We often resort in using 18:1 models to get at least some base for our work. So you see there is alot of room for interpretation and actually missinterpretation.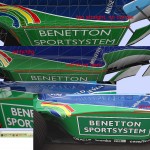 Marco was convinced, that Benetton hat different sidepods in 1994 and upgrades them during the season. The first one being quite bulky and straight and then later become slightly more curvish. He based this on his modell and what he "saw" in the pictures. I didn't see it at all and so it took quite some time and alot of pictures to convince him of my point of view. I'm glad he is a fair chap and listens to me, even though I can be annoying with details sometimes. You see the more accurate the model, the easier it is to paint. 8)
By the way, the Benetton in the center is the old TDG Benetton from 2003. Back then it was well-crafted, but today it's totally out of date and too undetailed. However having the archive is a big help to compare and sort out problems like this one.
So I made Marco agree with me now and it had nothing to do with the threat of physical violence or a 4 million ¥ bribe. 🙂 He'll be reworking the sidepod for the next weeks and in February I'll get back painting. For me this is perfect, because I'm having exams the next few weeks anyway and so I don't get any chance to procrastinate. 🙂