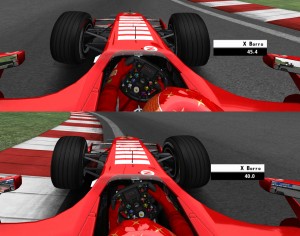 Fake plastic trees , when I think of the 3d arms in rfactor it reminds me of a Radiohead song and that is exactly what any of the 3d arms are in rfactor 😉  but it gets raised again and again, today we had a post about, and people want them, and as some may have read, I did promise some some time back after release I would do something.
I appreciate this is also an area that is a must have for some and not for others, nevertheless I wouldn't want to deny poeple enjoying our upcoming ctdp06 mod, if not having those fake plastic trees prevented them playing it at all.
I am not going to spend a great deal perfecting them, this took all of 15 minutes for a team to make, so it is literally not much to do for all teams, but I did these some time back and only Ferrari done right now to try it. If you don't like them sorry 🙂 I made these based on our biped driver model used for the current driver with static arms.
As such we wont support it, it wont be part of the install at release time, and I am not sure how soon afterwards I will release them, but probably of the order of the same week or fortnight or so I will make available a download, so it is simply a question of extracting some files to the team folders (and it wont cause mismatches).
Also  I will add some notes about how if you wanted to disable them in cockpit view, but only have them working in the tvcam, this is also possible.
So no more need to email us about fake plastic trees, or ask 🙂 
Regarding the CTDP05 arms email we had the other day, it has not been discusssed yet what to do, we are in a busy period right now and expect delays in replies to such things. Until they have been dicussed internally but as was asked nicely and  done the right way, you will hear from on of us, at some point.